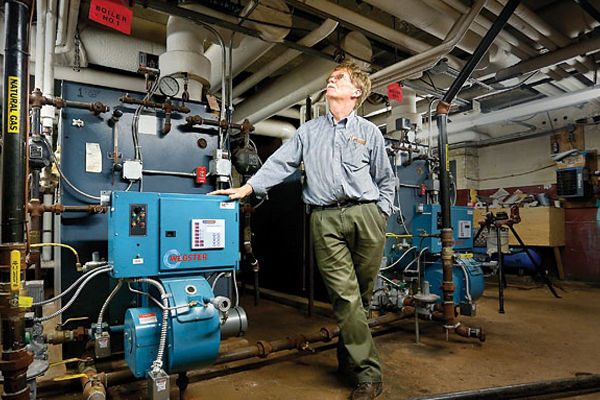 Summit Natural Gas of Maine, Inc. Prepared to Serve Cumberland, Falmouth and Yarmouth
January 30th, 2013
AUGUSTA, Maine – Summit Natural Gas of Maine announced today that the Augusta-based company has responded to the combined request for proposal from Cumberland, Falmouth and Yarmouth to provide natural gas line and utility service. The submitted proposal documents the company's investment in infrastructure of approximately $9.5 million dollars in steel main line transmission pipe and another $63 million dollars in distribution and service lines for the three communities.
In the proposal submitted on Jan. 25, Summit Natural Gas of Maine outlined several elements that will benefit the communities of Cumberland, Falmouth and Yarmouth.
"We are excited to submit our proposal and know that residents are looking for energy alternatives and ways to save money. As part of our work for the communities we are confident we can provide great service as well as offer conversion incentive rebates to help customers convert to natural gas as soon as possible. By completion of the third year of operation, we plan to serve approximately 6,000 residential and commercial customers throughout the communities, which will ultimately lead to economic development, job growth and more money for the local economy," said Timothy Johnston, executive vice president and chief strategy officer of Summit Natural Gas of Maine.
The proposal submitted by Summit Natural Gas of Maine includes a comprehensive approach to provide the towns of Cumberland, Falmouth and Yarmouth with an annual economic stimulus of an estimated $20.6 million based on natural gas savings, long-term jobs, and property tax revenue.
Throughout those communities where Summit has natural gas systems installed, nearly 80% of the residential customers have converted over to natural gas from other fuel sources.
"Our high conversion percentage is one of the many things that separates Summit from the other natural gas providers. We have a business model and rate structure that actually allows as many customers as possible to connect to our natural gas system. Our company believes strongly that making an investment in infrastructure of this size needs to go beyond serving large commercial customers. With our goals, we want to reach as many customers as possible and we're thrilled that Cumberland, Falmouth and Yarmouth have provided us the opportunity to work with them," said Michael Duguay, Summit Natural Gas of Maine director of business development.
Summit Natural Gas of Maine is making an upfront investment to assist customers to convert their heating systems over to natural gas. The Maine Public Utilities Commission has authorized Summit Natural Gas of Maine to provide a maximum rebate of 75% of residential conversion costs, up to $1,500. Low-income residential customers approved for LIHEAP assistance are eligible for a maximum rebate of 100% of conversion costs, up to $4,000.
Summit Utilities, Inc., the parent company of Summit Natural Gas of Maine operates twenty natural gas districts throughout Colorado and Missouri, and specializes in providing natural gas to areas that are either hard to serve or that aren't being served. These districts represent approximately 36,000 customers, $260 million dollars in assets, 400 miles of high-pressure steel main lines and approximately 1,500 miles of polyethylene gas main lines.
Earlier this month, the Maine Public Utilities Commission (PUC) unanimously approved Summit Natural Gas of Maine's request for authorization to provide natural gas service to 17 Maine towns in the Kennebec Valley. Summit Natural Gas of Maine, Inc. will make an investment in the Kennebec Valley of approximately $240 million, creating an estimated 435 jobs, and plans to serve about 15,000 residential, commercial and industrial customers by its third year of operation. The project will start in the Augusta area and the pipeline will stretch north through Waterville and end in Madison. The company plans to begin construction by May 1, 2013 and expects to be operational by early fall.