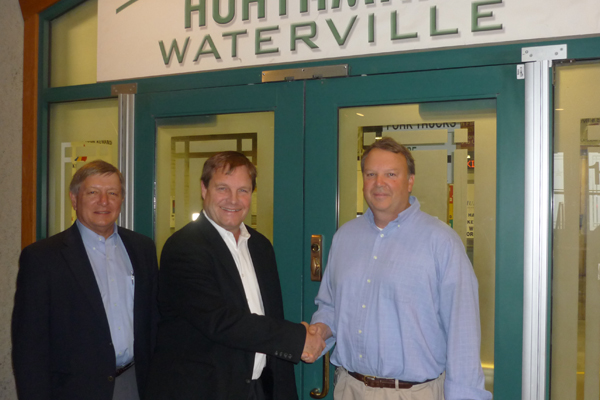 Huhtamaki to Receive Natural Gas from Summit Natural Gas of Maine, Inc.
April 21st, 2013
AUGUSTA, Maine – Summit Natural Gas of Maine, Inc. announced today that the Augusta-based company has signed an agreement to provide Huhtamaki Packaging with natural gas service to its Waterville facility.
Huhtamaki is a leading manufacturer of molded fiber tableware including the popular Chinet brand. The Waterville plant is one of 10 in the United States and about 40 worldwide owned by Huhtamaki. The plant produces around 1.35 billion pieces of Chinet and approximately 450 million coffee holders and trays annually.
"We are pleased to be able to provide Huhtamaki with the ability to access a lower cost alternative energy resource," stated Mike Minkos, president of Summit Natural Gas of Maine. "Pipeline infrastructure required to provide Huhtamaki service is scheduled to be completed early fourth quarter 2013."
"In addition to the infrastructure being installed to provide natural gas service to Huhtamaki, Summit will begin construction of its planned phased expansion of service to other business and residential customers in the Kennebec Valley," said Mike Duguay, Summit's director of business development.
Summit Natural Gas of Maine is scheduled to begin the construction of its natural gas transmission and distribution system in early May of 2013.
Summit Natural Gas of Maine, Inc. has committed an investment in the Kennebec Valley of approximately $350 million, creating an estimated 435 jobs, and plans to serve about 15,000 residential, commercial and industrial customers by its third year of operation. The pipeline will run from the Augusta area stretching north through Waterville and ending in Madison. To learn more about the project, call Summit Natural Gas of Maine at 207-621-8000 or visit their website at www.summitnaturalgasmaine.com/.
Summit Utilities, Inc., the parent company of Summit Natural Gas of Maine operates 14 natural gas districts throughout Colorado and Missouri, and specializes in providing natural gas to areas that are either hard to serve or that aren't being served. These districts represent approximately 36,000 customers, $260 million dollars in assets, 400 miles of high-pressure steel main lines and approximately 1,500 miles of polyethylene gas main lines.