Investing in Home-Grown Renewable Natural Gas
This year, by partnering with Maine's dairy and agricultural communities, Summit Utilities (Summit), the parent company of Summit Natural Gas of Maine (SNGME), plans to construct an anaerobic digestion facility in Central Maine. Located in the heart of Maine's dairy country, this facility will provide SNGME's customers with locally sourced natural gas to heat their homes, power their appliances and run their businesses.
By bringing together Maine's agricultural and energy sectors we can pave the way for home-grown energy.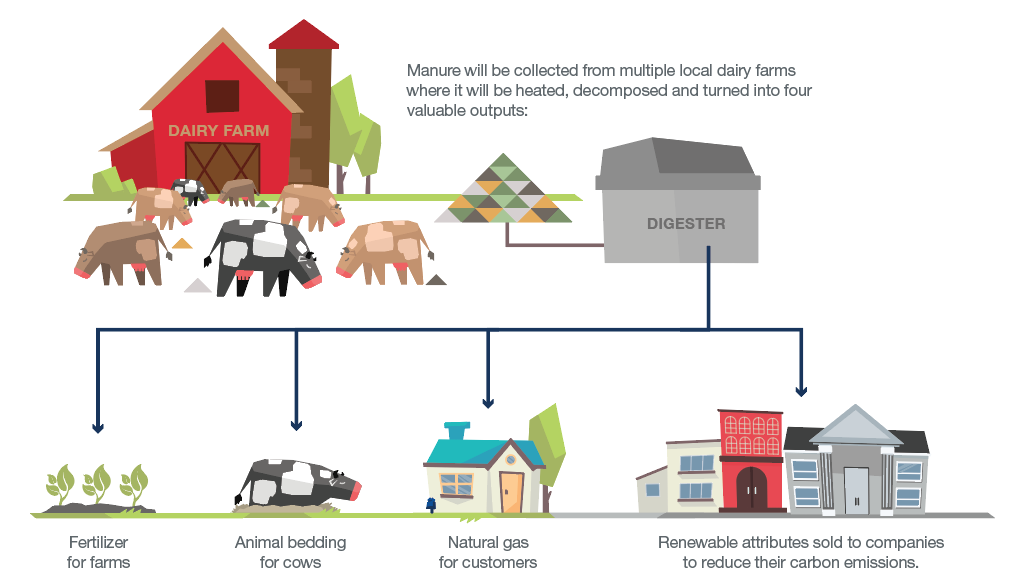 How it works:
Summit is proposing to construct an anaerobic digestion facility in Clinton, known as Maine's dairy capital, because its five dairy farms make up 17 percent of the state's dairy production*. The proposed digester facility will receive dairy manure from family farms in Clinton and other areas in Maine. Once in the digester, the manure will be heated and decomposed, creating biogas. The gas will then be cleaned to remove impurities. Biomethane is nearly identical to traditional natural gas and can be used for heating, cooking and other processes. The renewable attributes from the digester will be sold to third parties to help them meet their emissions reduction goals.
Summit anticipates the digester will supply approximately 125,000 MMBtu of gas a year.
The facility will produce four outputs:
a liquid that has all the nutrients from the manure. It will be returned to the dairy farmers to use as fertilizer for their fields,
fiber material that will be returned to the dairy farmers to use as compost or bedding for their cows,
natural gas that will be put into Summit's pipeline and used to heat homes and businesses in Maine, and
renewable attributes that will be sold to companies to reduce their carbon emissions.
Summit expects the digester will be commissioned and producing gas by the first quarter of 2021 pending approval and permitting from the proper regulatory bodies.
*https://dairystar.com/Content/News/Daily-News/Article/A-glance-at-Flood-Brothers-Farm/1/256/14516